Beauty Tips/Hacks
Daily Beauty Tips For Lazy Girls
Tuesday, February 12, 2019
Lazy girls want to look beautiful without spending more time on themselves. Actually, they need maximum returns by spending minimal tim...
Lazy girls want to look beautiful without spending more time on themselves. Actually, they need maximum returns by spending minimal time, and that is what we need in today busy life routine. We have listed below some amazing
no effort beauty hacks for lazy girls
who will for sure prove to be the life-changing for them:
1.
Keep makeup remover next to your bed
If you are too lazy to get up from your bed to take off your makeup, then make a habit to keep makeup remover next to your bed. At night when you are much lazy and exhausted and cannot even stand for 30 seconds, then include this beauty hack in your daily routine. Sleeping with your makeup on will damage your skin and also cause infections and breakouts.
2.
Moisturize when you are in the shower Lazy girls can moisturize themselves while you are still in the shower. After washing out shower gel, you can easily and quickly douse your skin with body oil. After applying it, you can also rinse excess oil from your skin and after getting out pat dry it and get a moisturized skin in no time. It is the quick beauty tip for lazy girls that can do wonders. With this, you have easily sealed the moisture in your skin for the whole day and also saved your time too.


3.
Blast your skin with a blow dryer
This is among the best beauty tips for lazy girls as in case you are too impatient to wait to dry out self-tanner, moisturizer or else toner. You can blow dryer to dry them out easily and quickly for your makeup to set. Some beauty products need time to dry out and which is a very important step to make your makeup long lasting. So try out blow dryer which will speed up the drying procedure.


4.
Apply one product to add color
If you are among those lazy girls who don't want to mess with entire makeup regime, then use one product wonder stick. You can use lipstick to add color to your brow bone, lips, and cheek bone after applying blend it with your fingers to look beautiful in no time.
5.
Easy steps for highlighting and contouring
Best beauty tips for lazy girls
includes a highlighting and contouring process in an easy way which they can include in their daily beauty regime. You can easily and quickly highlight your face in just three steps. Use a concealer which is two shades lighter than your skin tone and draw a top line above brow along with middle line above cheekbone and bottom line above jawbone. To contour in an easy way draw backward three lines in the shape of E with two shades darker than your skin tone. Make lines in similar way top line on the temple, middle on the cheekbone and bottom line on the jawbone. Blend these lines to get a flawless and seamless finish.
6.
Lack of hand eye co-ordination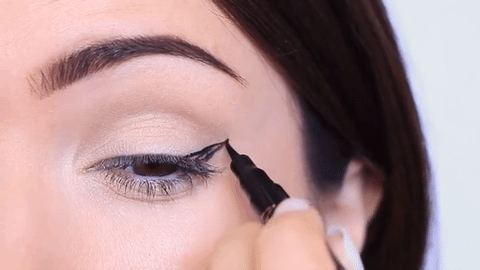 Girls love winged liner but lack proper hand-eye coordination. A girl in a hurry can easily clean the messy edges by using cotton swab coated with petroleum jelly. It is actually difficult to draw a perfect winged liner in one go, so not to worry as petroleum jelly is the best beauty product for lazy girls which they should carry all the time with them.
7.
Use nude eye pencil to awake inner rim
If you want to look lively instantly and feeling lazy to get ready, then this is the best beauty tip for the lazy girl. You can use a nude pencil to make your eyes look amazing. Use it in your inner rim or waterline to brighten your eyes. It will give you a look of a princess with wide eyes, and all will praise you for sure.


·
Greasy hair beauty hack
One of the most useful beauty tips for lazy girls as it is winter now and it is not possible to wash your hair on a daily basis. In case your front hair appears greasy, and rest is fine then you can solve this problem too. You just have to tie your back hair section with a rubber band and wash only the front part of hair in the sink. Finally, laziness of girls will be justified when you just wash that section of hair which you need should look good or else we can take the help of dry shampoos. Dry shampoo works simply: the alcohol or starch in the product soaks up the excess oil and grease in your hair, giving it a cleaner, fresher appearance.
Traditionally, shaking corn starch or talcum powder into hair has achieved the same effect, but most current products deliver the drying agents via an aerosol spray.
8.
Laziness to blow dry your washed hair
In case you have washed your hair and actually not in the mood to blow-dry it. In such a situation you can 'loosely' twist your wet hair into a low bun and clutch it with the clip. The time it is dried out naturally you can untwist them and separate the tendrils with the help of your fingers. Apply hair setting spray and you will get beautiful waves with laziness at home.


The best ways to get beautiful skin while your sleep and which will justify your laziness too. There are many sleeping masks available to treat your skin right. Before bed, you can use these face packs which you can apply. After applying the sleeping face masks massage them well to get amazing skin pampering benefits. You do not need to get up and wash your face afterwards! In the morning wake up with a refreshed face. This is among the best beauty tips which every lazy girl should follow.


10.
Get shimmering glow instantly

Every lazy girl wants to look beautiful by using less makeup and in no time. The highlighter is one of the best secret weapons of lazy girls to get instant beauty. Highlighter ad shimmering glow to your skin instantly, you can dab little of it to brighten your eyes and also underneath foundation to get a realistic look radiance without any efforts.


Multitasking products for lazy girls
have beauty powers. Mascara is one of them which help girls to define brows. Mascara also help to cover up the stray gray easily in your hairline instantly. Mascara is considered as one of the best beauty products which every lazy girl needs.
Above listed beauty tips for lazy girls will help you out to look and feel the best without spending more time. The above beauty tips help you to spend less time by speeding up the beauty process. For sure you will experience less efforts and more payoff by applying all lazy girls beauty hacks. So, even when you feel lazy, you can stay beautiful.